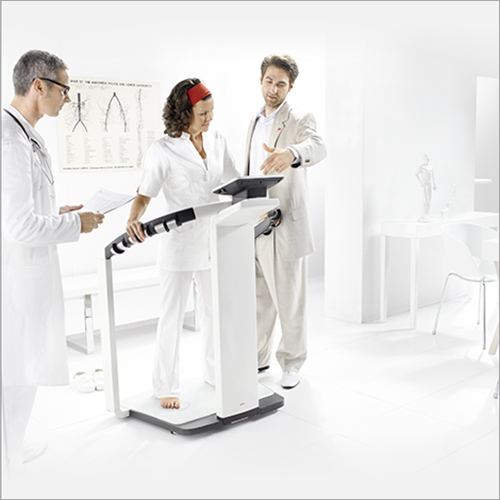 Medical Body Composition Analyzer
Product Code : 25
Product Description
Medical Body Composition Analyzer
Product Details:
| | |
| --- | --- |
| Minimum Order Quantity | 1 Unit |
| Category | Very Premium |
Seca mBCA 514 Medical Body Composition Analyzer Professional Medical Body Composition Analyzer
Measures intra/extracellular water, body fat, skeletal muscle mass
Clinically validated accuracy compares to scientific gold standards used in clinical studies
Reproducible measurements ensure accuracy
Hand-held electrodes mounted in standing aid for enhanced stability
Provides measurements in 20 seconds or less
mBCA utilizes four comparative methods to achieve precise results
8.4 inch touch screen display for convenient use with wireless 360 software
mBCA 514 is equipped with Seca wireless 360 for EMR transmission
Touch screen display may be rotated 360 degrees for physician to patient sharing and discussion
Weight capacity of 660 lbs (300 kg)
Large, easy access weighing platform constructed of safety glass for easy cleaning
Automatic electrode detection - makes measurement only when all electrodes are properly contacted
Includes Seca Analytics 115 software for transmission of data from mBCA to PC
The Seca mBCA 514 Medical Body Composition Analyzer offers clinically validated precision for calculating body fat mass, fat free mass, total body water, extracellular water, skeletal muscle mass, lean soft tissue and more. The Seca mBCA Analyzer Scale uses scientific gold standard calculations including air displacement plethysmography, deuterium dilution, dual energy x-ray absorptiometry and sodium bromide dilution. The Seca 514 pairs these calculations with 8 point bioelectrical impedance analysis to achieve unmatched accuracy.
Seca's mBCA 514 Professional Medical Body Composition Analyzer offers a sleek, attractive design with intuitive controls for good looks and easy use. The mBCA514's platform is crafted from safety glass and fitted with electrodes to conduct bioelectrical impedance analysis and guide foot placement for reproducible results. The mBCA 514 also offers hand-held electrodes mounted in the analyzer's standing aid for an easy grip and patient stability. The Seca mBCA is equipped with automatic electrode detection to ensure the patient is making proper contact with each electrode before a measurement is taken for unquestionable accuracy.
The Seca Medical Body Composition Analyzer is fitted with an 8.4 inch touch screen display capable of swiveling 360 degrees for patient-physician discussion of results. The mBCA Analyzer Scale features Seca's state of the art wireless 360 EMR interfacing system allowing instant data transfer and effortless patient tracking. Also included with the mBCA 514 is Seca's analytic software: Seca Analytics 115. This program allows physicians to send data from the mBCA514 to a PC and create visual presentations, store patient data and more.
The Seca 514 offers a 660 lb weight capacity with a large platform to accommodate virtually all patients, regardless of size. Providing measurements in 20 seconds or less, Seca's Body Composition Analyzer is convenient and easy to use for medical professionals and patients alike. A combination of cutting edge technology, precision measurement and an easy to use interfacing allow physicians to extrapolate data and provide guidance to patients of all lifestyles.
Additional Information:
Item Code: mBCA514
Pay Mode Terms: L/C (Letter of Credit),T/T (Bank Transfer),D/P
Port of Dispatch: Udaipur
Production Capacity: 5 Units
Delivery Time: 30 Days
Packaging Details: International Standard Packing